The ski touring season has just begun. The weather forecast sounds tempting. Lush fresh snowfall is announced and the next day should follow bright sunshine. A ski touring day like in a picture book is on the horizon and you prepare your skis, climbing skins, ski touring backpack, telescopic poles and other equipment full of anticipation. 
But what actually goes into the ski touring backpack? Let's take a closer look, focusing on the emergency equipment, so that nothing, but nothing at all stands in the way of trouble-free ski touring fun. 
Overview: Ski touring backpack packing list
Avalanche transceiver   Avalanche shovel First aid kit Rescue blanket Bivy bag Cell phone Helmet Catering Insulation jacket if necessary change of clothes ski goggles or sunglasses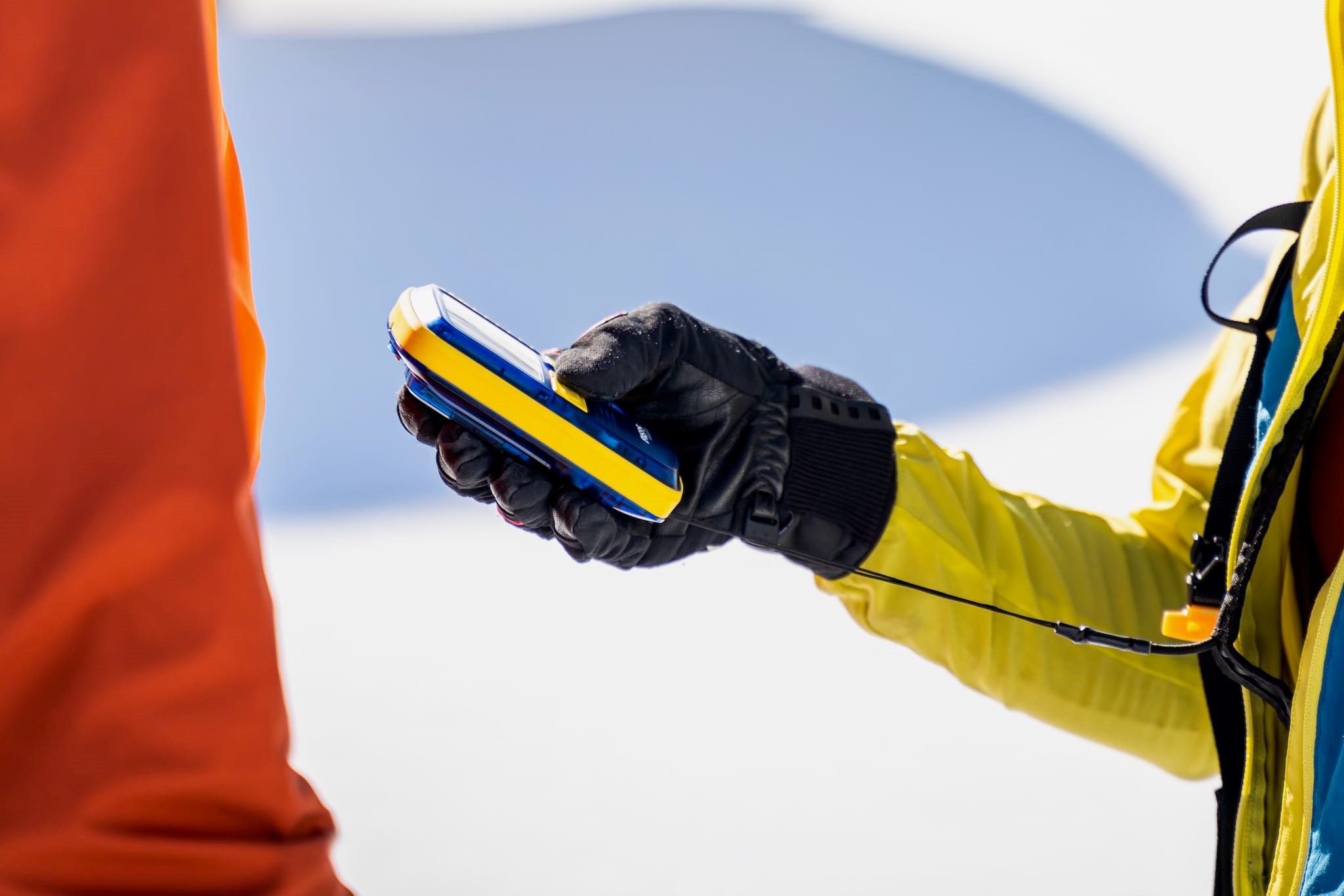 1. Avalanche transceiver - LVS
The most important part of the emergency equipment for ski touring is the avalanche transceiver - LVS or avalanche transceiver for short. But it still does not belong in the ski touring backpack. Because the avalanche transceiver is always worn directly on the man. Either with the holder supplied by the manufacturer in the abdominal area or in the pants, but only in pockets not sewn on.
Too great is the risk that in the event of an avalanche and burial, the backpack is literally torn off. The most beautiful signal of the avalanche transceiver is of no use if it transmits somewhere in the ski touring backpack, but you yourself are buried deep in a completely different place and are waiting for your ski touring partners to finally dig you out.

Modern avalanche transceivers rely on a three-antenna system that has proven itself over the years. Some devices today have features like a group check function or the ability to set markers in case of multiple burials.

Always make sure the batteries are fully charged. In addition, train regularly how to use the device and how to behave in an emergency situation. Because then every second counts and all the moves have to be right.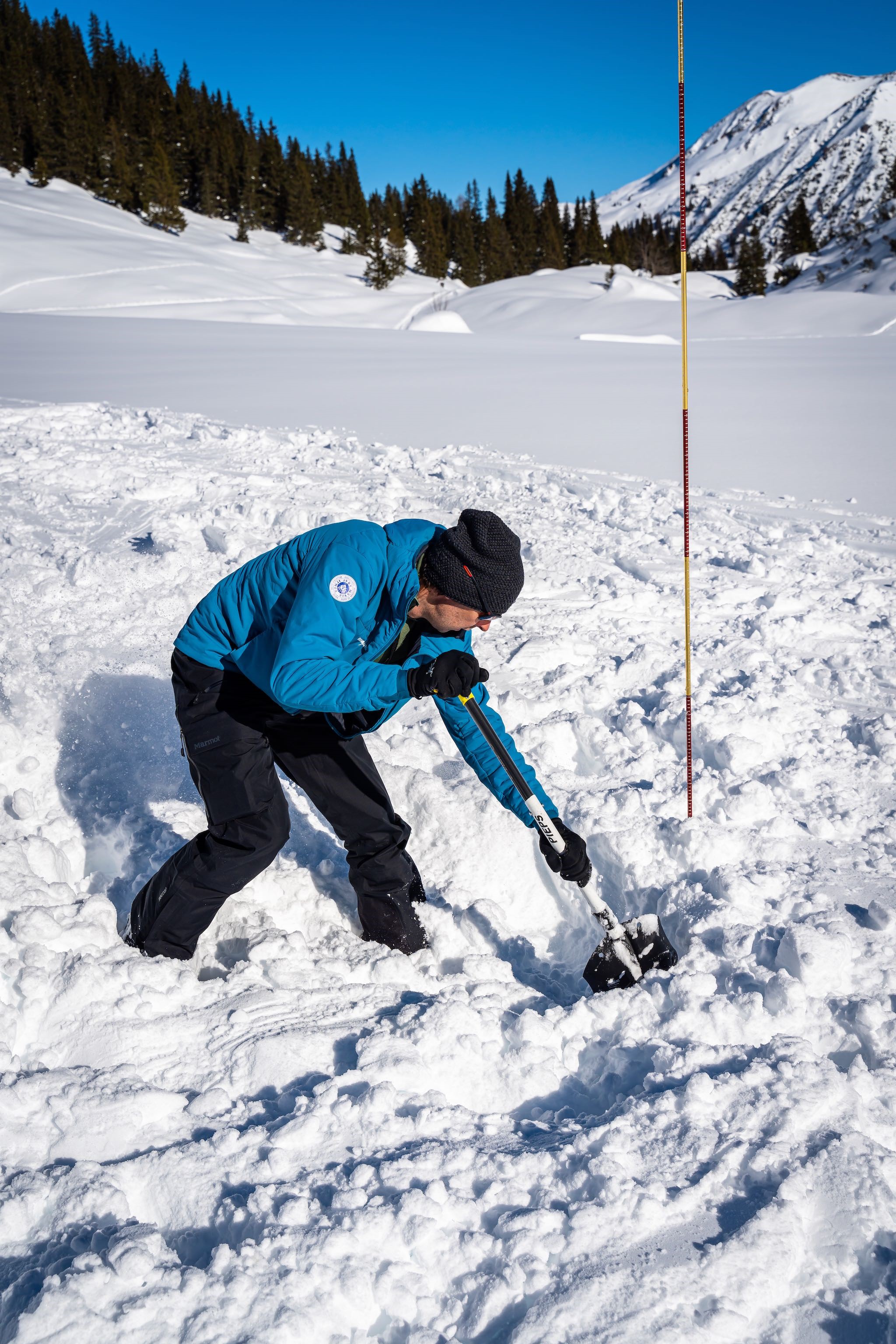 2. probe & avalanche shovel
The emergency equipment in the ski touring backpack also includes an avalanche probe and avalanche shovel. The probe is usually a throw probe, which is particularly fast ready for use. For the avalanche shovel, you should opt for a model with a metal handle, as plastic models can break much more quickly in cold conditions. 
Both probe and shovel are usually stored in an extra compartment for emergency equipment in the ski touring backpack. Our Kohla Vertical ski touring backpack also has such a compartment. This way, in case of an emergency, you can get the equipment you need as quickly as possible.
3. first aid kit and rescue blanket
A first aid kit should not be missing in the ski touring backpack. This does not have to be the lavishly large set that you have to carry in the car. It should contain everything that is needed in case of emergency to treat typical injuries that can occur on ski tours. These are already available in sizes that are hardly noticeable in the backpack and even less weight. In addition, a rescue blanket suitable for at least two people belongs in the ski touring backpack.

4. bivy sack
Many years ago there was a dramatic incident on the Hochkönig in the Berchtesgaden Alps. A climber was surprised by the sudden onset of winter at an altitude of almost 3,000 meters. The Matrashaus, a refuge right on the summit of the Hochkönig, was less than 200 meters away and yet she was unable to find it in the dense snowstorm. The woman died not far from the rescue hut. Since then, the landlord of Matrashaus has been promoting the idea that a bivouac sack should be part of the luggage on every tour, because it offers protection against wetness, snow and storms. This is especially true for ski tours in winter. In addition, a bivy sack is hardly larger than a hand clenched (relatively small) fist and less heavy than a modern smartphone. And yet it can save your life in an emergency.

5. cell phone
A fully charged cell phone also belongs in your ski touring backpack. If the network coverage in the targeted touring area is not good, use the power-saving mode that many smartphones have today. Or directly the flight mode, because when searching for network smartphones consume particularly much power. Even if you have no reception in an emergency, you can try to alert the rescue. Smartphones of the latest generations can even alert rescue services via GPS in gridless areas.

6. Helmet
In alpine skiing, a helmet is now indispensable. Even for many ski tourers it is now established and an integral part of the equipment. So that the helmet does not take up valuable space in the backpack, our Kohla Vertical ski touring backpack is supplied with a helmet net to be able to attach the helmets outside.

Conclusion:
Never go without emergency equipment! Pack your ski touring backpack carefully and never go on a ski tour in open terrain without the appropriate equipment.