The weekend or the long-awaited vacation is just around the corner and you are planning your next hike. Just before you set off, you start thinking about what you actually want to take with you. In our guide, we show you what is important when choosing the right backpack and how you can best pack your hiking backpack.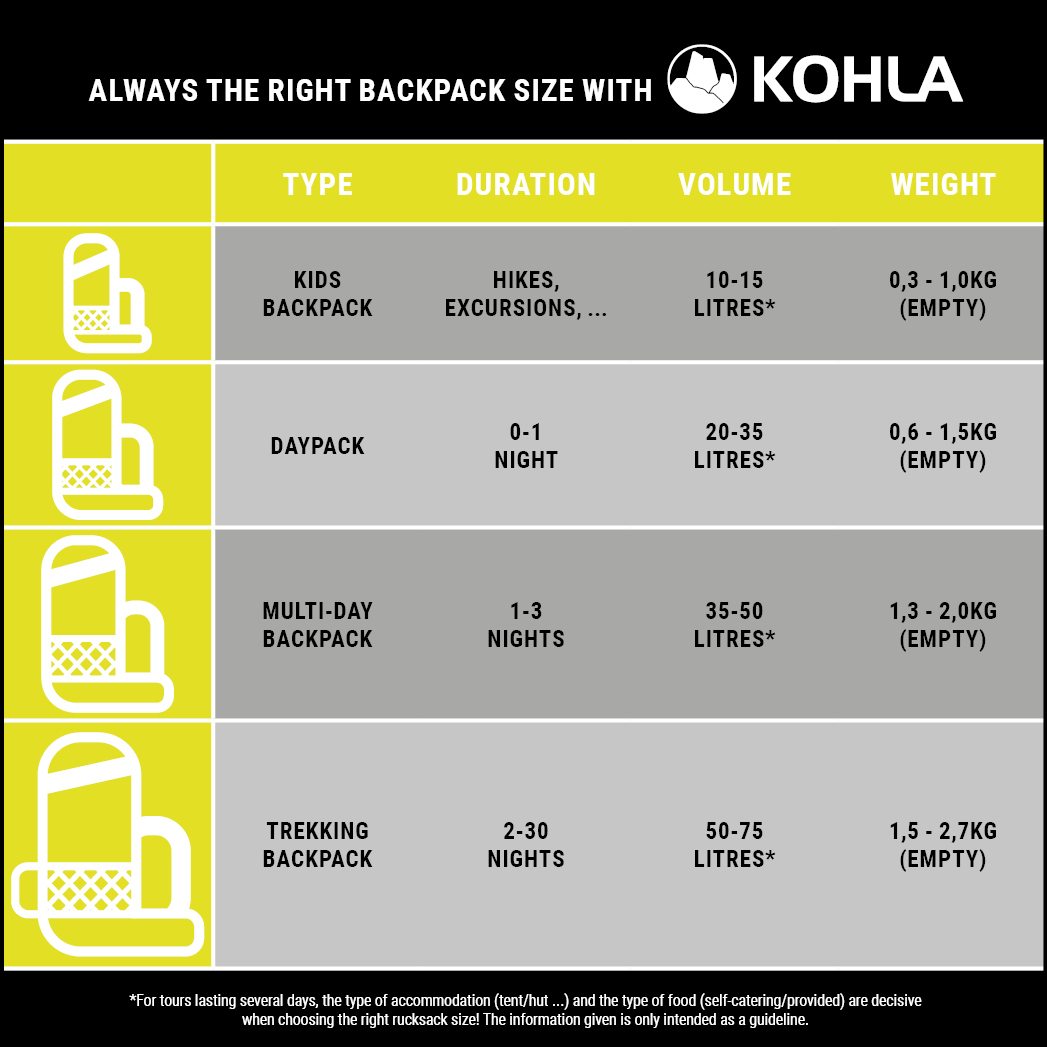 How many liters should your hiking backpack have?
What size your hiking backpack should be depends primarily on what you want to do. By the way, the most important guideline when choosing the size is the number of liters the backpack has. The number of liters indicates the volume of the backpack.
 With our graphic we would like to make it easier for you to choose the right backpack size.
We differentiate between the following backpack sizes: 
 Daypack, 20 - 35 liters
 M

ulti-day backpack, 35 - 50 liters

 T

rekking backpack, 50 - 75 liters
Outside the range are the children's backpacks, they are based on the sizes of the children and not on the planned activity. The volume of our KOHLA Happy children's backpacks is between 10 and 15 liters. What to consider in children's backpacks and why children need their own backpack, we will explain to you here. And yes, the rest of the gear will go into the parents' hiking backpack. If you are on a hiking tour with your children, it is quite possible that you will need a multi-day backpack for a one-day hiking tour. If you need additional equipment on your hike, for example, because you are taking a via ferrata set with you, it may be that you need more volume.
The carrying systems of KOHLA hiking backpacks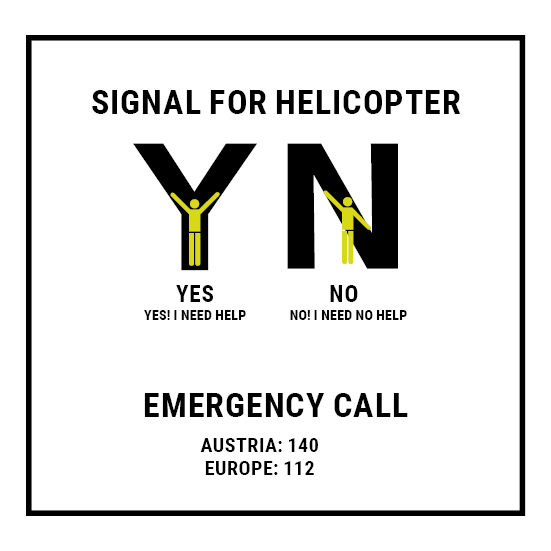 Emergency equipment
While taking emergency equipment with you on ski tours or snowshoe hikes is an absolute standard measure in winter, it is not yet so common on hikes. Yet an accident can happen quickly. A slip on slippery rock or a twisted foot. Therefore, you should not do without a few important things:

1. first aid kit - hardly noticeable weight and finds space in every backpack.
2. rescue blanket - is usually included in the first aid kit 
3. bivy sack - weighs a few grams and can save lives in case of emergency 
4. cell phone or smartphone to be able to alert rescue services such as the mountain rescue service in case of emergency. 
Make yourself regularly familiar with emergency numbers, but also possible signs for helicopters (e.g. arms to a Y means "Yes, I need help"; one arm up diagonally, one arm down means "No, I don't need help")

Conclusion
---
What to pack in your hiking backpack depends primarily on your planned trip and how long you will be traveling. If you are traveling with children or are planning via ferrata, you have to reckon with additional luggage and, if necessary, reach for a backpack with a larger volume.